14 walking days 232 miles walked and 398 miles to go on The South West Coast Path!
Once I stirred from my pretty expensive room with no exterior window at the Cliff House.  I could see I might be lucky with the weather and have a fine day 🙂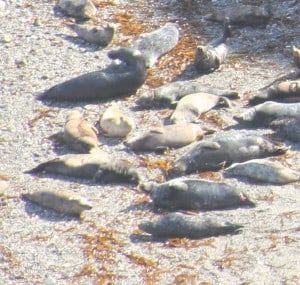 The walk started with a stiff climb back onto the cliffs and today there were only light winds and reasonable clear skies, although inland it looked gloomier. After a few up and downs and a pleasant tea break at Hell's Mouth cafe  I reached Godrevy Point where around 40 seals were sunbathing (Loved the NT warning about being quiet! With helicopters zooming around overhead). Rounded the corner to be greeted by the magnificent sweeping St Ives Bay & humungous sandy beach plus the quaint lighthouse on Godrevy Island with great views towards St ives. (which appeared deceptively close).  Whilst walking the three miles of the beach I came across 8 students from Kathmandu who were celebrating finishing their exams in London.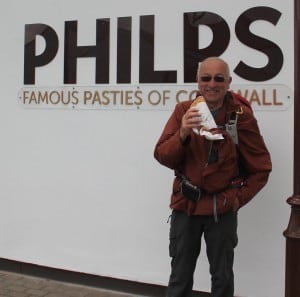 Then comes the real sting, with the tide out the River Hayle is perhaps 10 feet wide and that is all that is seperating you from the short walk to St Ives!  The strongly recommended route adds another 6 miles to the day trudging through the massive redevelopment of the North Quay at Hayle (no one quite knows why, but it's ok it's Euro money).  The one bright spot is passing the totally delicious Philps Cornish Pasty bakery & shop in Hayle. The path then takes you along the murderous B3301 to Lelant where the Old Quay PH is closed awaiting a new owner or redevelopment. The walk into St ives then closely follows the railway line and is really quite pleasant for a Sunday jaunt for the not so fit.
Today, and probably every other day forward I must thank Mike of Baggage Transfers for booking (but not paying)  for my nightly accommodation. Tonight and tomorrow (yep I'm staying here for a whole rest day) he has me in at Cornerways, where Daphne du Maurier stayed in the 1940's. A fantastic place to stay where Tim, the owner really makes you feel welcome in fact we went The Sloop together :-). The breakfast sounds like it could be very yummy.
So it stayed fine all day and the rain only arrived when I was having my cod & chips at The Sloop.
The stats are here and pictures here The trail is on Everytrail
The south West Coast Path – Portreath to St Ives at EveryTrail
E