First welcome to at least two more readers. Ann who left a comment on the previous post and Mike of Luggage Transfers.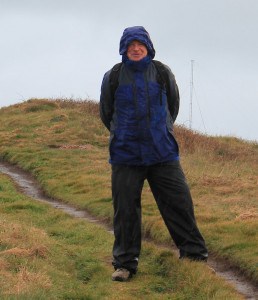 Today was AWFUL weather it rained heavily in the night, at breakfast the skies looked more welcoming. Just after Holywell Beach I bumped into my  first South West Coast Path hiker slackpacking from Lands End to Minehead, It was to wet to talk much.
However, by the time I reached Perran Beach it was a full blown hailstorm, the beach turning white. I I found the Stepping Stones Cafe open in Perranporth to wet my inside and dry out my outside a little. Then it was off out into what looked like April showers. Just before St Agnes I ignored the dire warnings (with my new UK Tides app. I knew I was in no danger) by going around the cliff base rather than up and over the top.
After St Agnes I was treated to gale force winds and rain with a flooded path in places.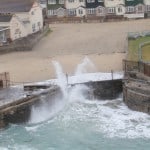 Finally descending into Portreath I found the Cliff House B&B a bit expensive especially for Room 5 with no view or even outside window :-(, but I was in no fit state to argue after walking 19 miles in those conditions.
Because my GPS lost signal whilst I was in the lunchtime pub I had two merge two tracks using Adze whilst playing with it 🙂 it came up with these rather fun figures for today: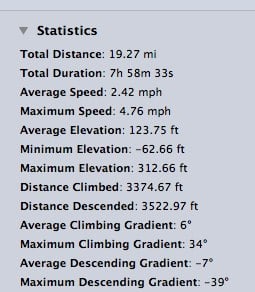 I love the maximum climbing gradient of 34 degrees and total height climbed of 3374 feet. (according to the guide it was 2940 feet).
As usual my stats are here pics here and Everytrail:
South West Coast Path -West Pentire to Portreath at EveryTrail