First thanks must go to the great guy who runs The Kandi Lodge in Newquay, the other end of the holidaying spectrum to the Atlantic View but ideal for youngsters hen & stag parties or so it says on the door 🙂 and for £20 a night with no breakfast a good deal.
The Station brekkie place refused to open up at 8am so I had to go to a different one 🙁 which was more expensive. I caught the right bus after the first couple of buses I stepped on were going to the wrong place. Arrived at Porthcothan on time and started walking back to Newquay, another couple who were on the bus with me were soon left behind.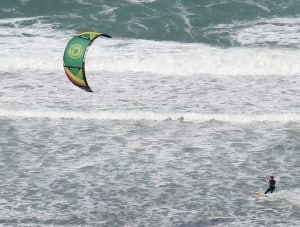 The wind soon rose to gale force but the rain stayed away so I made good progress, taking snaps and amazed at the diversity of such a simple object as a bench!
I became very jealous of the kiters shredding on one beach which reminded me of my attempts to kite in 2002  in the Dominican Republic, Maybe on my return I will take a month out in sunny hunny 🙂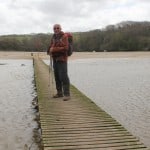 Then it was the never ending trek through Newquay till eventually I emerged at the Fistral Beach and the neoprene clad surfers 🙂 (see the header). Then fortunately it was low tide so I could escape by crossing The Gannel by the bridge which gets covered at high tide.
Once over I climbed up to Pentire Point West to try and find somewhere to stay. The hotel was closed down and the pub had no b&b desperation was setting in when I rounded a corner and discovered a discrete sign to Goose Rock Hotel car park, I ventured down knocked on the door and eventually Lynn from Bolton showed me in. I'm in Room 4 with great views over The Gannel and even to the lighthouse at Trevose Head where I was 2 days ago.
Todays stats are here pictures here and Everytrail here.
South West Coast Path -Pothcotham to West Pentire at EveryTrail

Oh! I'm pretty sure I now know why my Canon D550 flash gets so gummed up so it won't work and that the rotary settings dial gets sticky……