Today I awoke to a gorgeous sunrise at Halwyn it was an early start for me. In fact I was on the beach at 7.30,  I needed to catch the low tide so I could use the stepping stones over Gillan Creek.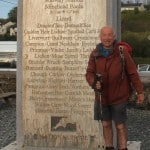 The starting point today is the midpoint on the trail so exactly 3 weeks after setting off from Minehead I'm now half way, will be interesting to see what the weather gods can throw my way in the next 3 weeks after the gales, sleet & heavy rain.
It was a beautiful walk today in idea conditions, I had trouble finding the stepping stones, not because of the tide, but because of the swollen state of the river! each stone was at least 6 inches under water, with the seaweed on the top of each stone it became a delicate operation 🙂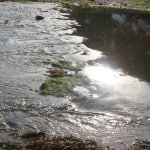 The next river crossing at the Helford passage was by ferry boat and at £4 for one way must rank it in the most expensive ferries per minute in the world.(It takes about 3 minutes).
The paths are still very muddy in places but the lush undergrowth of bluebells, wild garlic and numerous other flowers and bird song make this a very pleasurable walk.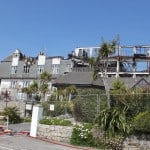 I arrived in Falmouth to see the cremated remains of the Best Western hotel  at 13.40 leaving loads of time to explore Falmouth in bright sunshine. i treated myself to a haircut not bad for a fiver but obviously Sally's are much better 🙂
The Falmouth Lodge Backpackers at £25 is not bad value but I will be glad to be in a b&b again tomorrow if Mike can fix it up.
Biggest disappointment of the day was Rick Stein's fish & chip shop, dreadful value at £11.60 greasy fish and almost soggy chips what is even worse is they use beef fat ughhh
Oh!  Terry & Hilary it was good to meet you in your Rohan kit 🙂 Hope you had a good walk.
Pics of today are here stats are here and Everytrail below.
South West Coast Path – Porthallow to Falmouth at EveryTrail