A day in the blazing heat riding along the exposed top of the dam that holds The Rhine into a navigable river, its all very reminiscent of fenland rivers, alongside the main river are poulders which  are flooded when the water flow is to high for the river.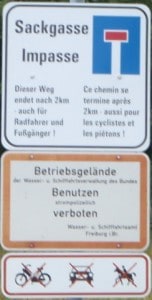 The German's struggle with the signing so that in the main centres like Kehl (Strasbourg) you get a proliferation of contradicting signs! I also love the sign covered in German & French text that forbids entry but fails to give you any information as to where the route has been diverted too! These guys need lessons in the use of simple signage like the Swiss and French GR5.
I drank about 10 litres of water/beer/apple juice yesterday but still felt dehydrated with an headache. Hopefully, today will be overcast 🙂
Oh yes why do German hotels only have wired internet 🙁 and all WiFi is locked down?  and why can't T-Mobile sort out my internet – instead of sending me messages that an error occurred and try again 🙁 To me its pretty obvious the glorious days of open internet have gone for ever..
Here's my route yesterday:-
Ottenheim-Schwanau to Karlsruhe at EveryTrail
Plan your trips with EveryTrail Mobile Travel Guides