I'm writing this in my room above the noisiest bar in town 🙁 the charming bar maid assures me she will have the place cleared by 11.30pm but then the hot rodders start laying down rubber outside all night long. So probably wasn't the best place to pick 🙁 after a 25 mile walk.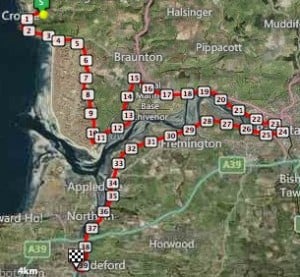 The problem with todays three stages is that I've walked 25 miles to progress  (after I walk another 3 tomorrow to Appledore) by about 7 miles. All due to the huge River Taw estuary and it's military areas and the lack of the River Torridge Ferry until 1.30pm tomorrow.
The walk itself is very flat, mainly on the old railway line so in reality I should have just taken the morning bus for 30 mins 🙂 and continued from Appledore.
Biggest discovery of the day for me was the sheer number of surfers, at first they looked like birds on the water.
Tonight T-Mobile decided I had reached 80% of some unspecified target, so that they would no longer allow tethering. That after only using it last night for uploading my pics and using Skype. It really is quite staggering how the government allows the operators to get away with such crap service, maybe they should invoke the Monopolies Commission if it still exists! The coverage is abysmal and their internet policy is based on some unspecified "fair usage". Compare that to Turkey's excellent 3G coverage and the ability to buy 1G of data cards for about £15.
All the stats are at the usual place and the route is on Everytrail :
South West Coast Path: Croyde to Bideford at EveryTrail

The pictures will be at Google+