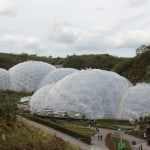 Today I took yet another day off from walking The South West Coast Path this time not for bad weather but to visit The Eden Project, a place I've been wanting to visit since it's opening in 2001.
I used public transport on the way there so I could enter for £12.50 🙂 However, there is only an hourly bus service from St Austell so prepare for a wait.
My first impression on entering the site was how small the domes were, a deception because once inside they are truly vast! I guess the site itself is quite big and the domes are below the general ground level, being built in an old kaolinite pit.
It's very impressive but a lot quieter than the real jungle, perhaps a view jungly noises could be added. Or have a few parrots &  monkeys hidden away.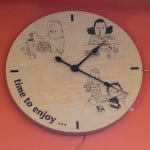 I enjoyed the visit, and such a change from National Trust places with all their dire warning signs telling you everything you can't do. To me it was all summarised by the clock which had on the dial "time to enjoy" Also the information panels are quirky with delightful inscriptions such as "Lavender.. and another thing…"
It would make a great day out with the grand kids it's a pity it's such a long way from Cambridge. Maybe we can get one built in the old quarry at Barrington or the lime pits at Cherry Hinton. I know, pigs might fly as well.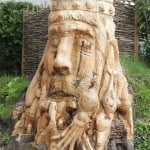 I decided to walk the 3 or so miles back to Charlestown, it only took 1 hour, the same as waiting for the bus and quite a pleasurable walk too especially seeing this remarkable wood carving of Neptune Sea God carved by Peter Martin in 2011 on the stump of a felled tree.
Allthe days pictures are here.
The day on Everytrail is below:
Visit to The eden Project from Charlestown at EveryTrail