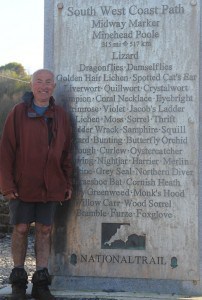 After the mother of all mega days I arrived at the halfway point a fancy  315 mile marker, on the beach, in the lovely fishing village of Porthallow. According to the GPS today I walked 27 miles (including the stretch up to the Halwyn Guesthouse )  and climbed 6200 feet, so my longest day so far. Some of the length is due to me having to retrace my steps to retrieve The Guide I left on The Lizard plus some wanderings to try and find dry land.
The day was dry with a little wind but the terrain was very, very soggy in many places after all the heavy rain particularly going up to the Lizard, also it was quite treacherous going down into Coverack a pretty hard stage by any standards. The diversion on Permissive footpaths from Godrevy Cove to Rosenithon is a nightmare+ wading through cow slurry 10″ deep to reach the road at the end, a kind lady told me to wash the boots in the stream.
I met up with the Dutch couple in Coverack who I last saw leaving Penzance in the torrential rain & wind on Sunday, they managed to get as far as Marazion before a hotelier rescued them, dried them out and packed them off on a bus to their destination.
The paths around The Lizard are amazingly busy and in the summer must be a walkers nightmare, plus the cafes around there are pretty rubbish.
The stats are here, pictures here and Everytrail here:
South West Coast Path – Mullion to Porthallow at EveryTrail