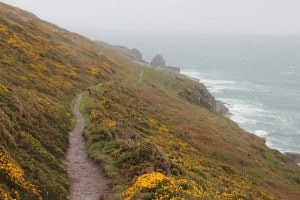 Today was a good 23 miler in pretty awful conditions, started with light rain and some sun but then turned into a gale (not funny on cliff tops) with some very vicious squalls. Not a pleasant day at all. Even the Scillonian ferry was cancelled.
All the equipment is keeping dry OK, although its a drag to keep hiding the camera in a dry bag every time there is a particularly big downpour. The iPhone is great in its Aquapac, which is large enough to hold the Tecknet iEP387 batter pack connected up. The iPhone can be operated OK through the plastic, although not so good for phone calls!
The biggest disappointment are the Scarpa boots. The left boot has now sprung a leak so my foot & socks were thoroughly soaked when I arrived, plus they have lost traction in the mud since the tread has worn away. All with just100 hours of walking covering 300 miles in 680,000 steps.
The terrain was a lot gentler to begin with but getting hillier towards the end but certainly hot as bad as the first few days. Adze thought I had climbed 4117 feet today The Guide thought 2848 feet (maybe I should add the Adze figures to the spreadsheet). So a pretty heavy day really. The next couple of days are going to be 20 milers as well.
The Mounts Bay Guest House is comfortable, the owner is very pleasant and he is trying to dry my boots out, the b&b is directly linked to the pub kept by his son. The food was more for car drivers than hill walkers 🙁 maybe I should have gone to the chippie.)  Thanks to Mike for booking me in.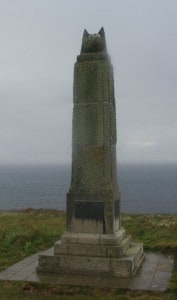 Unfortunately the historic Marconi station at Poldhu wasn't open and the inclement conditions meant I didn't hang around. Still amazing that transatlantic radio only started in 1901.
Todays stats are here photos here and Everytrail below.
South West Coast Path – Penzance to Mullion at EveryTrail