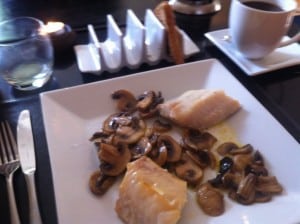 Today I'm taking a rest day in the pleasant town of St Ives, enjoying the hospitality of the owner of Cornerways, Tim after first rescuing him from paying a fortune for a .mobi url!!
After our little drinks session last night I couldn't face a mega breakfast (tomorrow will be different)  so today it was just haddock & mushrooms with the most stunning fresh fruit salad of the trip 🙂
We went for a jaunt in his little sports car over to Penzance to do his fresh fruit & flower shopping and to see where I will be walking in the next few days & a jar at the Gurnard's Head.
As you can see from my spreadsheet I've now covered over 232 miles of the 630 in 14 days. Thats a daily average of nearly 17 miles 🙂 implying that it should be about 37 days to do the walk. so finishing about the 20th May.
The weather has been pretty poor although not as bad as Sally has been reporting on the East Coast . I've got rained on heavily once a couple of days ago (I bought a flourescent yellow rucksac cover today just in case, as the black dry bag has loads of micro perforations in it – spotted by sticking my head in the empty bag and pointing it at a bright light.
Anyway must go now as Tim and I have just returned from another bender 🙂