First many thanks to Sally's relations Jean, Mick & Archer, well not Archer who is a humungous dog, for putting up with me at such short notice 🙂
Off to a bit of a late start as I had a load of WordPress sites to update to the latest release and we had to drive down into Padstow where I spent a bit of time inspecting parts of Rick Stein's domain viz Cafe, Restaurant (Lunch £37), Bread shop & the pub on the way in. Pretty amazing really all on the back of cooking fish 🙂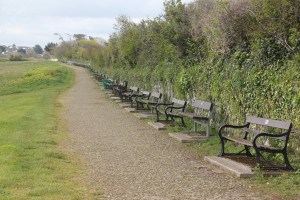 Climbing out of Padstow I came across the largest collection of benches ever, in fact every corner turned exposed them in an abundance never before experienced, most of which were memorials to the beloved deceased. I wonder if Dignity Funerals offer some sort of package deals.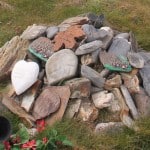 Which brings me onto the other thing I see that causes me to ponder, that is all the flower, stone memorials to mum, grandma etc on the cliff edges. No day goes by without seeing at least a couple of them. Did they jump? or was it their favourite spot?
Todays header is my sort of dream home, built into the slope with a glass front and stunning views. Unfortunately this one is built at the edge of a caravan park with a rather pedestrian house next door.
Oh! and the weather started threatening but the rain stayed away, the wind was cold but basically a good day for walking although I hadn't fully recovered from yesterdays marathon so was feeling tired.
I bumped into a day walking couple who I had met yesterday, of course it was they who recognised me :-)We had a lovely chat about adult kids & boxes piled behind settees 🙂  I wonder if I will meet them again nearer the end in Weymouth 🙂
I finished today in Perranporth, which for anyone following, is a bit of a dump. I failed to find the b&b and the pub is atop the big hill (in the wrong direction). However, outside the shop (closed 🙁 ) there was a stop for Western Greyhound Buses 556 service to Newquay (at 57 mins to the hour). which was a good decision as Newquay is real cheap with lots of  facilities including 18MB broadband. Hopefully, I will get the 556 at 9:05 tomorrow so I can start walking at 9.54
Todays stats are here and pictures here. Everytrail is here:
South West Coastpath – Padstow to Porthcothan at EveryTrail