495 miles to go on The South West Coast Path.
Firstly many thanks to all the new visitors that came from this tweet:
[blackbirdpie url="https://twitter.com/#!/swcoastpath/status/192577773414518785″]
and also many thanks to Betty & Chris for the lovely email sent after I met them in the woods atop Clovelly
Today started of very miserable & wet (both me & and the weather 🙂 can't say I enjoyed Bude at all!  Plaice & chips last night was ugh and a garret bedroom with no room to stand up in the shower, might be OK if you are 4′ but not for me 🙁 However, things started to improve at breakfast, the kippers & poached egg were excellent.
The day was once again amazingly windy especially at the 500/130 bench on top of  Dizzard Point (wonder if it got his name from making folks dizzy)  where I nearly was blown over! Thank goodness for my sticks. The scenery is totally stunning.
I tried to find the landing point for TAT-14 our umbilical cord to the rest of the world  in Widemouth bay but it is not to be found anywhere not even any notices warning about submerged cables.
The section as always, has many steep coombs. Here is the profile: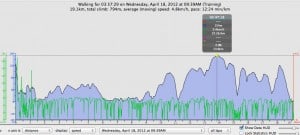 I dropped down into Crackinton Haven and decided I had heard enough wind for the day so I settled for a pint and room at The Coombe Martin Inn, room 6 has fab views, to watch the sunset, over the bay and it's own terrace. Real luxury compared to last night. Food is excellent too. To top it all I just missed the last torrential downpor of the day 🙂
As usual the stats are in my google docs and photos on google+ and the actual trail walked is over on Everytrail:
South West Coast Path – Bude to Crackington Haven at EveryTrail