Today marks the first 7 days of walking The South West Coast Path. The Path starts in Minehead goes along the coast to Lands End then returns along The english Channel to end in Poole Harbour a distance of 630 miles.
In my first week I've covered 109 miles according to The trail Guide 2012 which I'm using. This is 17% of the trail which predicts it will take me about 40days.
According to Fitbit I've planted my feet on Terra Firma 279,604 times in 7 days or just under 40,000 steps a day 🙂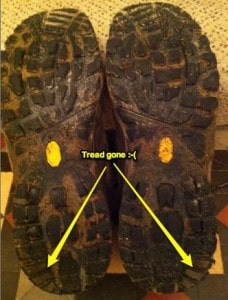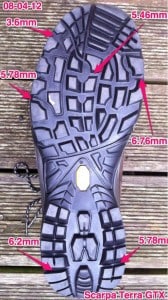 The worse casualty of all those steps seem to be my Scarpa boots.
As you can see over 6mm of rubber has disappeared from the outside edge of both heels. It will be interesting to see what the next 1/4 million steps does to them.
The walk scenery is really stunning, the only disappointment has been between Croyde Bay and Bideford, where I think a bus would have saved a days walking and not taken away from the walk at all.
The first week (apart from today) I managed to keep out of the bad weather. But the forecast is none to good for tomorrow onwards.
All the accommodation has been very clean and pleasant, some even tending towards grand.
Time for bed now. Full statistics are here