This was an Ian of a day (sorry Mr Corker couldn't resist that).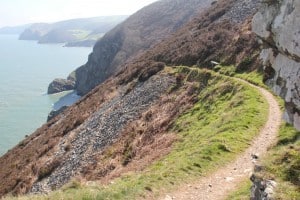 A totally superb walk in every way. Fantastic weather, excellent views , well kept paths and signposted plus bumping into Fiona the girl guide helped with the navigation to Great Hangman and beyond.
I'm settled into the Harcourt Hotel in the centre of Ilfracombe which fully meets my specs. of in room wifi, decent shower & a bed 🙂 for a reasonable price of £33, after my Fish, Chips & Guinness at The George & Dragon for £10.90.
Today I was unable to use Posterous to post any iPhone pics but maybe that was to do with the totally rubbish cell connections.
I've now created a spreadsheet of all the trip data, this will be updated daily, click here.
Pictures can be viewed can no longer be viewed on Google+ but are now on Flickr here https://www.flickr.com/photos/geoffjones/albums/72157708237762234
Unfortunately, Everytrail went out of business. However, AllTrails extricated all the data so my route and pics are now at https://www.alltrails.com/explore/recording/lynmouth-to-ilfracomb-day2-of-south-west-coast-path–2