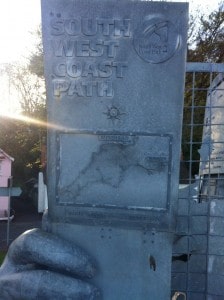 After finalising my 10kg of packing it was a pleasant day of travelling on trains & a bus I arrived at Minehead in the late afternoon. I'm staying at The Quay Inn, enjoying it's free WiFi. The South West Coast Way  starting sculpture is about 50 metres away and my room overlooks the sea, all very pleasant if somewhat expensive (£50 a night for b&b).
Preoccupations recommended Toucan Wholefoods so I stocked up on trail mix 🙂 & had a scone with tea.  Then of to Morrisons to stock up with sardines, tomatoes,  Mars bars, malt loaf, hot cross buns, bread baps & a banana, So should be OK for at least a couple of days 🙂
The T mobile 3G signal started to rapidly degrade after Newbury on the train. I had been listening to di.fm in perfect quality before that. Down here the signal is terrible and according to the coverage charts likely to get much worse 🙁 Whereas walking The Lycian Way in so called backward Turkey we had perfect 3G most of the way with TurkCell.
Before I set off I signed upto GiffGaff as O2 coverage seemed better. However, I just plugged the SIM in and I'm not allowed to tether the Air 🙁 selecting the option takes you to a 404 page not found on the O2 website). So it looks as though I will be restricted to private WiFi points.
Weather wise it's looking OK nice & cold but sunny, at least for now. Breakfast is at 8am so I will be on my merry way to Porlock Weir (4.5 or 5.5 hours) or maybe even closer to Lynton (5.5 hours)