Tomorrow should see me venturing of to try and walk the 630 miles (1008Km) and apparently 114931 ft (35031 m) of vertical height on the South West Coast Path. So should be interesting especially in the foul weather at the moment.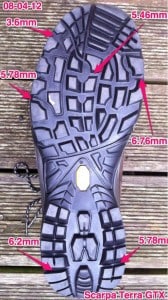 To honour the occasion I've purchased yet another pair of Scarpa Terra GTX boots, about the 5th pair I reckon!. I've measured the Vibram soles (see the pic) and will take another picture upon my return!. My Fitbit is currently at 2,797,194 steps (Since 22 November 2011 if you are curious). My weight is now down to 78.2kg (12 st 4lb) so with the 10kg or so in my rucsac It will be my lightest walk yet 🙂
The biggest weight component in the rucsac is all the electronics! about 3,5kgm (7 lbs) including the EOS550D camera with zoom, 11″ Mac Air, Garmin Etrex GPS  & iPhone 4 with assorted batteries, chargers & my going away
present from Sally of these ultra smart USB leads from Apple.
No space for the tent & sleeping bag this time! Just taking a bivvy bag in case of dire emergencies.
For anyone who is interested you can follow all my internet activity for the past 4 years on Memolane 🙂