My very good friend Michael, who has such a way with words, today emailed me "I've just requested a PAC from Orange so I am heading inexorably toward an iPhone. You will have to recommend 10 must have apps."
So here are my favourite apps. (Skewed towards travelling) – In no particular order…
so: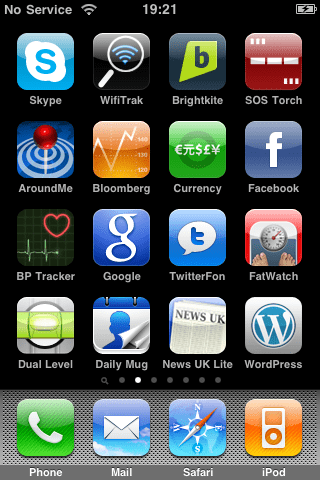 Skype  – Great when travelling to avoid the stupid O2 roaming fees and those £1 for 1 second calls because the folks you are calling aren't at home.
WifiTrak – Essential when travelling to find those open networks and to move around to get highest signal strength – warning it eats the battery!
Brightkite – finds out where you are and Twitters it – note that the iPhone GPS only seems to work if there is a cellphone signal 🙁
SOStorch – converts the iphone to a torch, neat for those midnight soirees to the GOT (Great outside Toilet)
AroundMe – Great if you need to know the  nearest Apple store is 3.500 miles away! or that the hospital is around the corner!
Bloomberg – so you can keep track of your stocks and see how much money you are losing or gaining.
Currency – great for checking out exactly how many Bolivars there are to the pound or if the local dealer is ripping you off.
Facebook – so you can see what your friends are up to and where you should be heading next.
BP Tracker – Not so handy when travelling but good for home so you can see how stressed and unhealthy you are.
Google – quick access to all your google stuff.
TwitterFon – My favourite twitter client – has neat way of displaying which Twitter folks are replying too..
Fatwatch – Another home based app. pretty cool at generating nice graphs like this.
DualLevel – Handy for checking out that the buildings actually are leaning by 5 degrees although I forgot to measure how steep the Inca staircases actually are.
DailyMug – take a picture of yourself every day – pretty neat – my series is here.
NewsUk Lite – Akin to walking past a newsagents stand and glimpsing at the headlines – all you really need to know about what is happening.
WordPress – ideal for posting blog entries, OK I never used it, whilst away 🙁