Today marks the end of my fifth week on The Path and I've now covered 545 miles of the 630, so only 85 miles to go 🙂
I left Larkstone House after a humungous breakfast and what can only be described as a blast with a pressure jet shower, easily the most powerful one yet on The Path.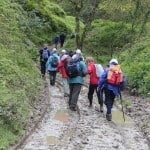 I finally left over the pretty pedestrian bridge and started another day on the roller coaster, climbing through the most stunning bluebell wood then along the top with great views over yesterday's cliffs. I met a pair of American ladies from Wyoming who were only going to Beer today, so I soon left them 🙂
Then down into Weston Mouth and back up again through another very muddy bit with a hiking group struggling. Past a group of National Trust folks trying to repair a path.
Branscombe Mouth was interesting with a cafe and the 14 ton anchor from the MSC Napoli that ran aground in January 2007, the 2400 containers and all the motorbikes safely removed or stolen 🙂 Then it was an interesting undercliff walk towards Beer and the inevitable caravan park. Beer was nothing like I remembered it from my youth when we used to cycle from Creswell to the YHA. with a bit more climbing and descending  I was in Seaton.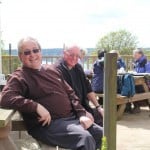 In Seaton I tried 2 cafes  but neither could be bothered to serve me! the others ones looked grim so I crossed the oldest concrete bridge in the UK and started climbing out, I noticed the Axe Cliff golf club was open to walkers so after a wait I managed to get a sandwich & pint plus a talk to two golfers (whose mates are apparently doing The Path) and four local lady hikers.
After this it was a mega undercliff walk to Lyme Regis. This part was a totally new experience, more like walking through a forest ,very pleasant especially if you enjoy bird song, personally I plugged in the headphones and listened to Nocturnal  with Matt Darey.
A great walk especially reading about the Bindon Cliffs when a 1km section broke away in 1839 and proved a huge tourist attraction for many years and so to the delightful town of Lyme Regis which I must say is very pleasant, to be greeted by your host in the local pub before showing me my room in his house next door, the Smuggler, struck me as very civilised.
The photos for today are here, statistics here, and Everytrail below
Sidmouth to Lyme Regis on The South west Coast Path at EveryTrail