Final update! I returned the boots to Open Air who sent them onto Scarpa's UK agent (Mountain Boot Company). on June 8th they refunded me the full purchase price with an admonishment from Open Air that they won't supply me another pair of this boot model!
This an update to the disappointing saga of my  latest pair of Scarpa Terra GTX boots, purchased from Open Air in Cambridge, UK on the 7th April 2012 for over £120.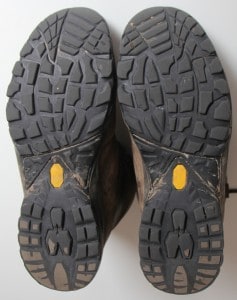 From my first post you can see the heels started to wear very badly after only 127 miles and started to leak water at 307 miles.  I've now completed the 676 miles of The South West Coast Path. This is a pic of the boots today after about 1.5 million steps or 680 miles (1000Km) or so. As you can see both heels are totally  worn down (making them lethal in wet conditions), the toes are also close to their limits. Most of the walking was over pretty soft terrain (you can see the rubber isn't shredded at all).
Whilst away, I entered into some email correspondence with Scarpa which turned out very disappointing. Nathan Fullwood, Ast. General Manager of the UK distributors, The Mountain Boot Company, promised to call but none came 🙁  In an email to Open Air their response was:
"The wear rate of an outsole is linked to a number of factors including rubber shore. However Factors such as the midsole ( be it pu, Eva etc ) and the internal midsole ( texon, nylon internal board) will have a bearing even before one considers terrain, walking style and consumer abrasion.
The terra construction is overall designed to be light and cushioned, with an upper and sole that perform/ wear in tandem As the boot is close to impossible to resole effectivly. One could increase the durability of the sole by adding more rubber, but this would increase weight.
In our experience of the terra having sold over 50,000 pairs in the uk over the last 4 years, we are comfortable with its components and performance for its intended use. If we have seen a return on the product, it has almost always been linked to a more experienced and serious user expecting more from the product than it was really designed to do.
As such as per our initial feedback we would propose to trade your customer up into a product such as the ranger gtx or perhaps even a delta gtx. " (my emphasis)
So they expect £120 to only buy you a pair of boots not designed for serious walking? Their website clearly says something different:
THE SCARPA® TERRA GTX WALKING BOOTS ARE IDEAL FOR HILL WALKERS LOOKING FOR COMPLETE WATERPROOF PROTECTION AND COMFORT
So it's back to Open Air who say they will return them to Scarpa for me, maybe I should get the family Italian connection's to give someone at Scarpa head office a call 🙂
It's amazing to me that no one seems to make boots with easily replaceable heels, I would have thought they could be made to bolt on, rather like the bindings on my snow board. then I could carry spare heels on my trips 🙂