Not such a coastal walk today as the route takes you behind the vast shingle bank of Chesil Beach and Europe's largest lagoon The Fleet.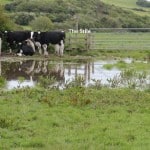 After a pleasant breakfast (with fresh fruit 🙂 )and homemade marmalade. I departed from The Peache's. The route takes you past The Swannery then a meander through rolling fields, some of which reminded me why I don't eat cows or drink their milk. The mess these animals make and the way they congregate need stiles is disgusting.
After this I came across the first red flags of the trip with a group of soldiers popping away at Tidmoor Point which meant a diversion quickly followed by a walk around the razor wire at Wyke Regis HQ and yet another campsite where you can relax to the sound of guns firing.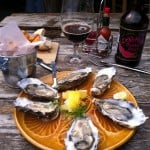 I reached Ferry Bridge after 10 or so miles and then debated with myself about walking around Portland Bill. However, I spotted The Crab House Cafe offering very large and juicy fresh oysters at £1.58 each from The Fleet Lagoon and so that settled the matter. Even though it meant sitting out in the freezing cold wind as they were full inside. Yes, the wind and rain showers  have returned. However, I must remember a lunch time pint kills me for the afternoon.
So it seemed ages to get to the Fosters Guest House at the other side of Weymouth especially since the coast path follows quite a tortuous route past the old harbour etc. Oh and I got to see my first 'official' Olympic T shirts at £23 each.
Tomorrow I will get the bus back to Ferry Bridge and do the circular tour of Portland Bill. Then it will be a couple of days to the end, so i will probably finish on Sunday.
The photos are here, statistics here and Everytrail below
Abbotsbury to Weymouth on The South west Coast Path at EveryTrail