Another long day with just under 19 miles walked and 4780 feet climbed!
The Schooner Point gave me an excellent  breakfast, I particularly liked the way all the homemade items were labelled and the way the cereals were stored in cavernous glass bottles with ladles. Very tidy & brand less 🙂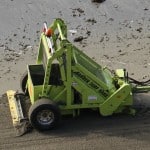 Since I left early it was interesting to see the beach been cleaned with a miniature piste basher, I wonder if it has magnets in to grab all the money folks have dropped during the day. Climbing out past all the luxury homes I soon descended into the distinctly downmarket Millendreath with it's boarded up entertainment complex's and hundreds of small chalets. I pondered how places become like this? Did it start with a local parish councillor on the make…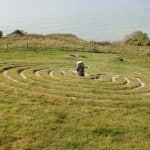 I then climbed up again  to the rather beautiful spiral cut into the grass and the poster with the mythology behind the number 7, making me think about the role of 7 in my life (born in the 7th month of the 7th year, 28 is 7 times 4…….. then descending through the beautiful woods into the remarkably naff beach cafes, no fancy cakes and china tea cups along the route for me today. then on through the Tregantle rifle ranges with a rather menacing warship lying offshore.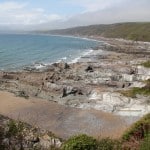 Then to Cornwall's answer to a shanty town, Freathy with its multitude of wooden shacks obviously built prior to the planning laws arrival. The road was getting busy so I descended onto the gorgeous beach, which you should leave  near the old boiler from  the wreck. However, in one of my more insane moments I could see a set of steps at the far end and decided to clamber around / over the amazing & dangerous jagged rocks, which at times seemed impenetrable. Reaching  the steps they turned out to lead to the rather exclusive and very private Pollawn Fort wedding centre which rather explained the skip full of champagne bottles. However, I wasn't challenged so I snook out.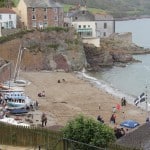 The walk continued through beautiful woods and countryside to the amazingly pretty Cawsand village which was in the middle of a May day carnival complete with Morris dancers and Navy wallahs wading in the sea. A Plymouth ferry arrived as I was on the beach so I skipped the last two miles to Cremyll and its ferry and hopped on.
I wandered up to Citadel Road, the b&b centre according to Mike and booked into Kynance House. Then went for a disastrous meal at Cafe Rouge in a distinctly uninviting deserted Plymouth centre.
All the pics are here and stats here, Everytrail below
Looe to Plymouth on South West Coast Path at EveryTrail