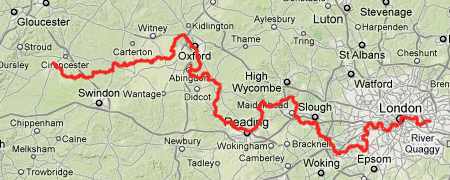 After 10 days of walking I completed The Thames Path from its rural source close to Cirencester and its 180+ mile twisty route to the Thames Barrier.
The route encompasses a lot of famous place names associated with Royalty and the English upper classes in fact it could be a tour of them from The palace of Westminster, Hampton Court, Windsor, Eton & Oxford.
Most days I did well over 20miles as the ground is flat, well marked & easy going. My days were:-
Day 1 (May 10th) Ashton Keynes to The Source and back again with Sally who I must thank for the lift 🙂 I stayed at the good Cove House. Distance about 15 miles.
Day 2 (May 11th) Ashton Keynes to Kelmscott about 21miles I stayed at the excellent Manor Farm with an amazing evening meal at The Plough.
Day 3 (May 12th) Kelmscott to Swinford another 21 miles or so Charles met be en-route and made me a coffee in his stunning house plus giving me lots of tips for my upcoming China trip, thank you 🙂
My friend Chris picked me up so I could stay at his house in Abingdon.
Day 4 (May 13) Swinford to Clifton Hamden a 22mile day made possible by Chris picking me up again and providing a seconds night hospitality.
Day 5 (May 14) Clifton Hamden to Goring a short 15 mile day so I could be ready for Sally coming down for the weekend. I met Margaret who is walking bits of the Path over weekends etc.
Day 6 (May 15) Goring to Henley Lovely 21 mile walk with a couple of surprising hills.
Day 7 (May 16) Henley to Windsor/Eton A cracking day of over 23 miles with Sally followed by a meal at Zizzi's thank you Philip and congratulations on your upcoming wedding 🙂
Day 8 (May 17) Eton to Hampton Court A big 24 miler so a tiring day thanks to AroundMe I located the Lionsgate Hotel even though I had no prior booking!
Day 9 (May 18) Hampton Court to Chelsea another 22 miler this time with aching feet 🙁 Very impressive that the countryside extends so far into London. AroundMe saved me again by finding a cheap hotel in Chelsea, The Oakley the neighbouring Fiamma made me an excellent vegetarian stuffed cannelloni
which brings me to the final day
Day 10 (May19) Chelsea to The Thames Barrier 17 miles to do what a crow could fly in half! Past all the magnificent buildings associated with London, Big Ben, The Globe, Tower Bridge etc etc
All totally awesome except for the nagging pain of two small heel blisters 🙁 🙁 although relieved somewhat by meeting Alwyn & his wife who are planning to walk to Santiago from St Albans, they had just returned from cycling the length of New Zealand having previously crossed Canada and covered fair distances in Australia – amazing the folks you meet when walking.