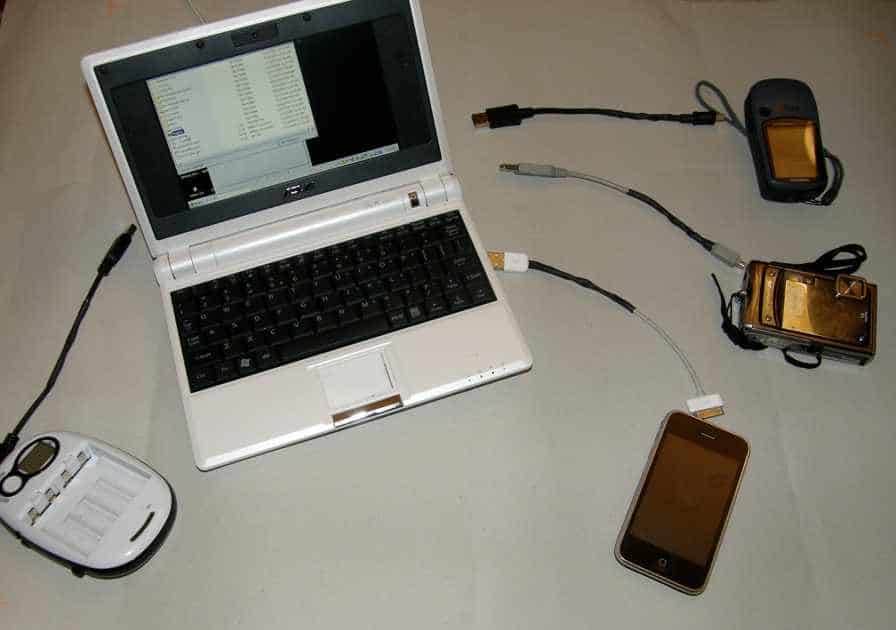 I spent tonight shortening all my USB cables so that my electronics can pack away neatly.  In the past I have carried a rats nest of cables & Power Supplies with me.
The result of tonight's endeavours is shown above. It's now  below 2Kg including the Asus power supply, Garmin GPS, Olympus uTough camera, Eee 4G, rechargeable battery charger & iPhone.
Its always annoyed me that the Olympus cameras come with a separate power supply and cable rather than charging through their USB lead. Tonight, whilst shortening the camera lead I discovered that if I left the green & white wires disconnected then it would charge through the Eee USB port (OK you also need a complete cable to get the pics off).
On the Eee I have a nLite version of XP Pro (About 3GB in size) with GPS Trackmaker for downloading tracks of the Garmin, Picasa for downloading images of the camera and storing locally on a 16GB SD card. GPicSync ties the images to the gpx tracks. I also have MemoryMap with the whole of the UK at 50000:1 plus The Alps and Pyrenees 🙂 I run CCleaner very frequently to get rid of accumulated crap and keep about 600M free space. It also has iTunes so the iphone can charge and unlocked if anything goes wrong.
So the Thames Path will be the testing ground, at least I will be passing a lot ofelectronic stores if anything goes awry.