Today started off as a low energy day, funny how buildings can do that to you. It didn't get much better when I left and found it to be raining. 🙁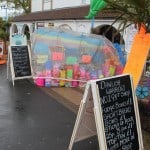 I continued walking along the coast wall between the sea and Gods Wonderful Railway as the GWR was known. at Dawlish Warren (an apt name) you have to leave the wall and meander pass sad looking shops for the bucket & spade brigade then walk next to the road along an elaborate new path/cycleway that can't make it's mind which side you should be on,  before it gives up and dumps you on the narrowest bit of the road.
I crossed the railway at Starcross for the ferry with it still pouring, of cause there was no shelter. Eventually we left, me as the only passenger for the 15min £4.50 crossing to Exmouth into the new harbour complex of flats, which I'm afraid to say held no appeal. I eventually found a cafe in an old Pullman carriage at the model railway centre. A short climb later I was next to some fancy needle sculpture opened by Charles in 2002, whoever pays for this stuff? The little stone engraved stones on the side of the path were better (telling me gorse smells of coconut).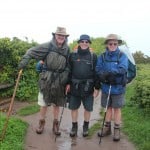 After passing the depressing caravan site near Budleigh I met three posties (Steve, Larry & Bertie) from Bristol, a very cheery lot especially given they were camping the path. One of whom had completed it before. I bumped into them again in the cafe at Budleigh. They are hoping to do A Coast to Coast walk next year so I told them about the lady who produces the b&b guide. Here's the link for their daughters and better halves. None of the lads use the internet!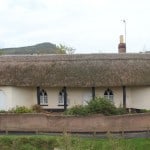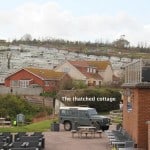 After the lunch my spirits and the weather lifted. I gave a group of squaddies a good run for their money (OK they were carrying 60kg backpacks).
Then past the amazing Ladram caravan site. Where a gorgeous thatched cottage is surrounded by cravans. I just imagined the cottage owner waking from a deep sleep and thinking WTF has happened. Before I used to live ina gorgeous valley with a lovely beach now I'm surrounded by hundreds of campers trying to be happy. 🙂
Finally the sun came out as I was entering Sidmouth, what a civilised lovely place this is. Even the ice cream shops close at 5pm its all very prim. However, I notice like Cambridge it's lost the main Post Office. However, it still has a vibrant range of independent shops. Mike at Luggage Transfers found me the b&b at Larkstone House & I've forgiven him for giving me the wrong postcode, adding an extra mile to the day 🙂
The pictures for today are here, statistics here and Everytrail below
Dawlish to Sidmouth on The South West Coast Path at EveryTrail

Tomorrow Tuesday I pass through Seaton & Beer on my way to stop at Lyme Regis, then its Abbotsbury on Wednesday followed by Weymouth for a couple of nights Thursday & Friday to do The Bill . Which means the next stop is Poole and the end.