Sally (who did this excellent post about the walk)  and I recently walked the Sheeps Head Trail which starts and ends in Bantry, Cork, Ireland. We did the walk in a anti-clockwise fashion, as the numbered 350+ guide posts indicate.  We stayed the two nights we were on the peninsular in Kilchrohane. first night at the Bridge View House, Ann Donegan the owner kindly returned us by car to where we left the trail on the North Side. The following night we stayed at The Bayview Inn both decent places although the evening meal at the Bayview was much superior IMHO.
This is our route and photographs:-

Sheeps Head Trail – Widget powered by EveryTrail: GPS Geotagging
For someone who is currently trying to sell their house in the UK, it was amazing to see the forest of For Sale signs and highly unusual the many deserted, unfinished, building sites. I can't recall seeing one Sold sign in the whole of Cork. Certainly doesn't bode well for the UK market. Apparently rental prices are collapsing too. Even The Bayview Inn is up for sale at €995,000!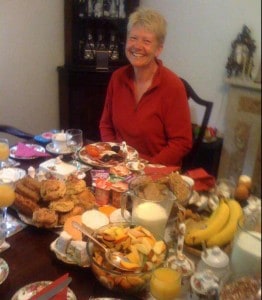 We also stayed at Maggies superlative B&B The Atlantic Shore in Bantry. If you are thinking of opening a bed and breakfast may I suggest that you visit The Atlantic Shore to see how it is done especially the breakfast, the community table groaning under Maggies home made offerings 🙂
See her reviews in Trip Advisor or just contact her direct on Maggie Doyle, Atlantic Shore, Newtown, Bantry 027 51310 divebantry at aol.com