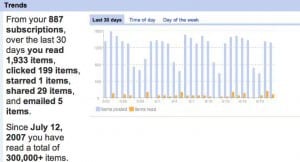 Whilst on my evening walk on this glorious midsummer's evening listening to the amazing Matt Darey Nocturnal show #305 I bumped into Rend, whilst chatting to her,  I realised that few people are aware that I read / glance at about 900 blogs/feeds in my free time. Any posts that catch my eye or that I like are shared 🙂
Once at home, even I, didn't realise that google has made a very nice page of all my shared items that is visible here. I will make this a link in my main menu bar.
Now for some more reading 🙂 & Matt Darey.