Monday 20 February 2017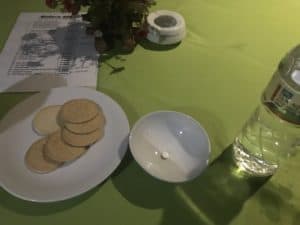 I spent the night worrying about being seasick on the trip today  🙁 Even thinking a good use of the watch would be to put a pebble under the strap to act on the pressure point.
However at 6am the kind lady at Club Mirissa provided my breakfast – a seasickness pill and 5 dry biscuits! perfect, pity the weather was anything but perfect grey and drizzly.
I embarked on The Good Boy to be told to sit downstairs 🙁 I asked about the roof, to be told it was for VIP's I asked how much was it to be a VIP – 500 Rupees (less than £3)  I gave him the money and went on the roof with all the Chinese VIP's 🙂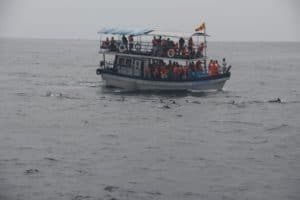 The boat eventually left at 7.15 into the swell. The tablet worked well, no discomfort at all, I even ate the eggy sandwich that was offered foc. We eventually caught up wth the flotilla of 10 or so other boats searching the ocean grey 🙂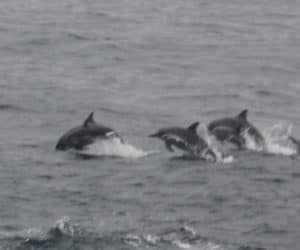 The first spotted was a large school of dolphins who made a half hearted attempt of a display, but it was far to wet for them 🙂 Then a blue whale was spotted, well a bit of its back anyway 🙂 It occasionally did a blow all very desultory. It then just sank out of sight. This happened a couple more times, each time the ship raced of to join the party. After the third time and 2hr 30min we headed back to port having covered about 15 miles of ocean.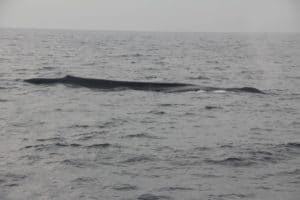 I arrived back at Club Mirissa feeling wrecked. I must have slept for most of the rest of the day, I put it down to the tablet, way to strong as I didn't feel queasy in the slightest.
As for the wildlife I think you are better of watching a decent TV documentary 🙂 totally sure that VR will take over pretty soon. Maybe the ship could have a gigantic projector :-).
Here are the other grey pics.