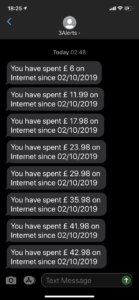 Unfortunately for my bank balance, I slept like a log on the boat, last night.
Stena has now discovered a little ruse to cash in whilst you are sleeping. They now have onboard cell service which if your phone is set to roaming it will quickly latch onto. This seems to be outside the EU roaming agreement so Three will charge you £6 per MB not good when the phone likes to back itself up at night 🙁 🙁 even worse 3 then decides to cut off your free data roaming until the next bill cycle.
It was a cold start to the day with lots of ground frost. I did my usual little tour of the Hook before I finally made it to the right path along the dunes straight into an Easterly wind. I eventually found a cafe open to defrost myself with a traditional three-egg starter to the day! No wonder the Dutch are so tall. Then it was through endless woods and forest paths all very pleasant but my mind was wondering if I could get the cycle boxed.
At the airport, once on the free WiFi, I quickly found the Baggage Storage Depot in the basement between Arrivals 1 & 2 who sold me a huge cardboard box for €23. Fitting the bike in was easy, my main concern was it rattling around in it. Time will tell..
Very impressed by the good design of Schiphol Airport, staff very pleasant and even the security guys were very cheerful and jokey even better you just leave your stuff in the bag and it just scans it in full 3D
The ride was only 50 miles all on traffic-free paths