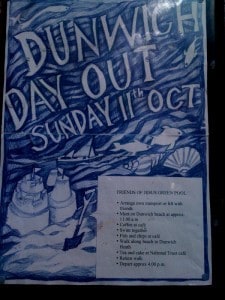 Today was the annual end of season trip of the Jesus Green Pool regulars to Dunwich for a dip in the sea followed by fish & chips and a walk along the shingle beach towards Sizewell.
The event was well attended by 16 regulars who all had a dip in the North Sea, some for the best part of half an hour, I only managed a few minutes before my fingers started turning white, remarkably one of the ladies who swam for 30mins still had pink fingers!.
The sun peeped out occasionally so a much better day than last year.
My photos of the event can be found by clicking here or viewing the slide show below:-
2009-10-11 1
Sally's blogpost and pictures can be found by clicking here