Here's a bit of a review of Sleepcycle, Fitbit & Zeo as ways of monitoring your sleep activity. It has to be said at the outset that I have never suffered from a problem with falling asleep or staying asleep 🙂 My only problems are my nocturnal ramblings to take a pee due to my enlarged prostate 🙁 and folks (but not Sally!) complaining about my snoring.
I started with the SleepCycle iPhone app which gave lots of pretty graphs like these and allowed you to set an alarm which woke you when you are in the lightest sleep mode near to the alarm time. However, it became unreliable with the iPhone falling out of the bed in the night. Plus it's very inconvenient having your phone buried under the sheets 🙂 also there is a slight risk of it overheating when it's charging during the night.
My next trial is using the Fitbit Ultra, the sleep monitoring with this is more of a by-product of the monitoring of your energy usage in 5 minute increments throughout the day. So there is no capability of setting alarms etc. You fit the Fitbit into a cuff around your wrist and then set it's timer going, remembering to press stop when you awake. I find it a bit tedious & inconvenient especially when sleeping with Sally 🙂 However, it is excellent at picking up my nocturnal rambles. Here is last night:-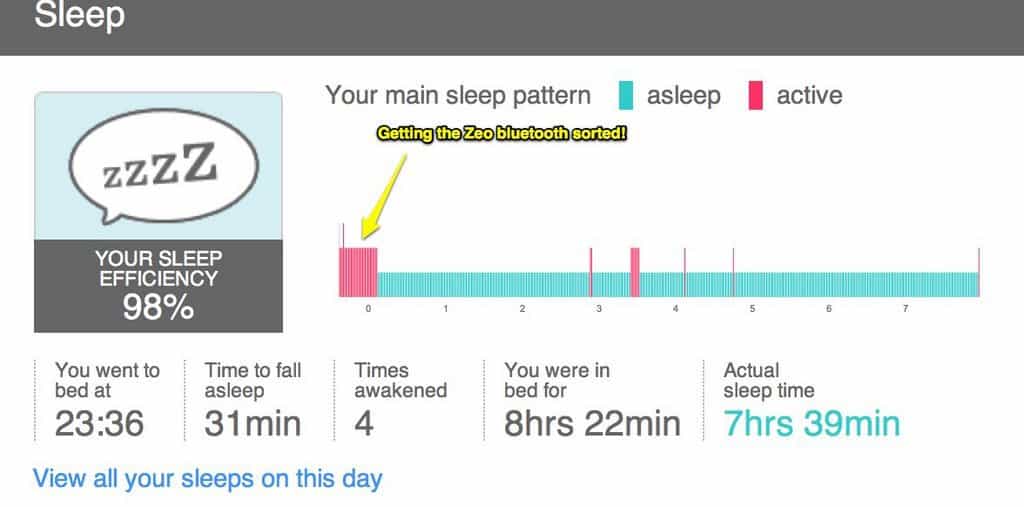 Whilst messing about with my Withings dashboard (another story) I discovered the Zeo sleep monitor, which rather amazingly could be purchased from Amazon, and even better arrived just before I returned home from Les Gets. Sally refused to allow me to use it over the weekend (even though I know she will be eager to use it). So last night was its inauguration.
After answering endless questions I finally got my Zeo account setup. I finally worked out how to to connect the headband. When it's on it looks more like a headtorch than a sleep device! But I'm never one to be worried about aesthetics and it's very comfortable 🙂
The Zeo transmits data to the iPhone app via bluetooth which is one of my pet hates as a communication means. After 30 minutes (Yep Fitbit recorded it) of fiddling I finally got it to pair with the iPhone, on my head and ready to press start! It was still in the same place on my forehead when I awoke, pressing stop then produced this rather colourful chart of my sleep:-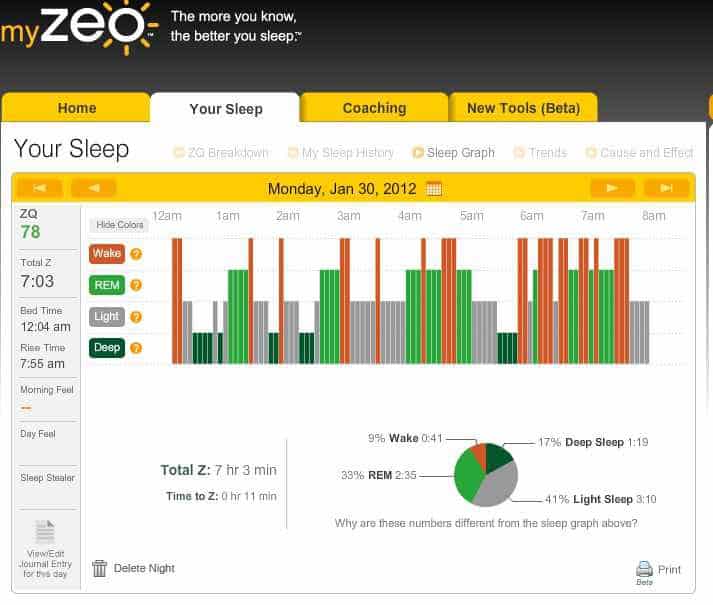 Pretty impressive I thought. Although it didn't really detect my toilet break at 3.30am like the Fitbit did. So obviously I was still very sleepy (obviously why I fell down the stairs 6 weeks ago). It will be interesting to see if my deep sleep goes above 17% in future nights or if Les Gets death by cheese raclettes & fondues really does affect your sleep. The Zeo comes with pretty comprehensive guide to how to sleep better etc. and can even be programmed to silently awake you near your alarm time 🙂 All to be tried in the future! Maybe Zeo can measure sound levels and add them to the chart as well 🙂
More to follow as I get more data…