Tonight is our last night in the sauna Dubai, the sauna over here is the reverse of the UK or Finland! inside the AC keeps the temperature and humidity to bearable levels outside its 42deg + with I reckon 80% humidity this means the house windows mist up on the outside 🙂 tonights swim was in a pool that is COOLED down to 32 degrees!
Such weather means that outdoor activities are kept to the minimum 🙂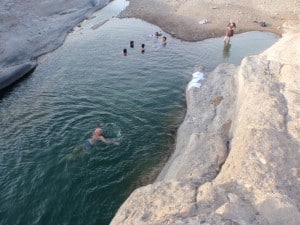 After our Sunday sleep we managed a trip out into the desert and to the Hatta mountains where Nick managed to navigate to a rock pool which provided an excellent wild swimming opportunity for Sally and I, the water was at bath temperature so a bit different than when we were in Corsica 🙂 Here's the trips and pics on Everytrail.
On Monday we went to explore the souks of old Dubai and to have an abra ride across the creek. The outside temperatures were pretty unbearble so we beat an early retreat with a later trip to rthe comfort of the Dubai Mall to see the fountains and ice skating. The gold souk trip is here on Everytrail.
Today we ventured on the palm to the Atlantis hotel to see the aquarium. Hoever, they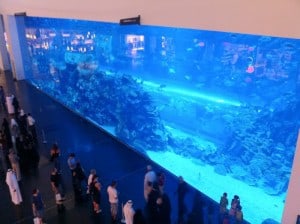 have decided to charge now so we departed leaving the fishes to their fate. Later we took the metro to the Dubai Mall which has a huge aquarium with probably the largest piece of glass/perspex in the world as a  FREE viewing window. We then paid to take a glass bottomed boat trip on the top of the aquarium. Excellent marketing! Later we ascended 124 floors (in one lift!) of the 200 floors inside the Burj Khalifa, a pretty impressive lift! and views.
A pretty enjoyable time apart from the heat, best time to be here is after October before March. It's pretty expensive for food, clothes, electronics etc Guiness is £7+ a pint all probably on a par with Les Gets.
Tomorrow we land in Beijing for my first trip to mainland China 🙂