On Sunday I ventured with Caroline into the Nar Valley, we met Ellee at the Ostrich and my new found friends JollyMolly, Sally in Norfolk, Adrian_rtq, The Hound and Millstream from The Ramblers forum for a walk on either side of The Nar from Castle Acre to Narborough.

The profile of the walk from someone whose just finished the Alpine GR5 is interesting. Notice the giddying height reached of over 60metres!
Adrian had his GPS working (OK, I forgot to enable the Track log on mine) and so we have a nice plot of the actual walk.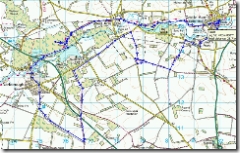 Actual length walked, including the three little detours 🙂 was 26.4km / 16.5miles in about 7 hours.
We found ourselves walking 90 degrees out twice, which is about par the course for me. Thank goodness for GPS systems.
Thanks to Ellee I even have a decent piccy of me – just look at that sky,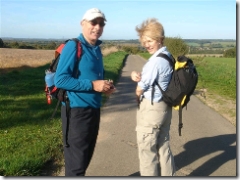 a perfect day, temperatures close to 20 I reckon and a decent OPEN pub at the end Oh, and many thanks to The Hound the best behaved dog I've met in a long time.
On the way back we called in at Jeff's Halloween party with loads of scary kids. Kirsten introduced herself to me as she recognised me from one of Caren's parties. I wish I had that ability 🙂 Told her the story about the previous night where I had forgotten the face of the lady who I had started the practice dance with, much to my embarrassment.