On Monday I went to one of the regular lunchtime talks at CRASSH. totally fascinating discussion and talk by Margaret Rigaud-Drayton lecturer in the Faculty of Modern and Medieval Languages about Word and Image in Guillaume Apollinaire's 'Lettre-Ocean'.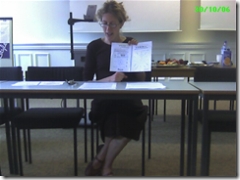 This, apparently, is a fictional letter written to his brother in Mexico. Personally I think it's a neat way of expressing your opinion without having to endure any more defamation lawsuits. Margaret found many meanings contained in both the language (French, Arabic, ) and the words used (eg chirlMOYa).
The layout of the text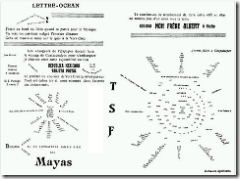 also has many meanings, visually like Paris pointing out to Cuba and Mexico or the opposite Paris being colonised by foreigners (the writer was Polish by birth with an Italian mother) or even in the shape of a women's pubis, also the waves to symbolize the ocean and distance . Many other asides like Bleriot and the modern abolition of distance with The telegraph and air travel (and now the internet) the visual emptiness of the letter O as a mirror into the soul. All totally fascinating and would love to learn more.