On Saturday George and I did the Kentmere Horseshoe in The Lake District. The weather was foul with a couple of very heavy showers and low visibility virtually all the day. Still it was very enjoyable.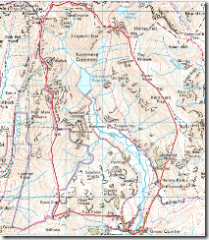 The image is the memory-map route that we fed into the GPS. For those of you who want to see where we actually walked (:-)) a Google earth file is here for you to download. Unfortunately, as off this post the Google images are not of the highest quality, However, it still gives you a feel of the walk. We did about 1000 metres of ascent in 14 miles. Walking time of 4 hours and total time out of 5 hours. George was struggling a bit onthe last ascent but I'm sure it won't take him long before the boot is on the other foot!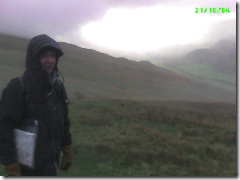 Here is George towards the end of the day when we suddenly saw some bright light in the sky – Yes it was the sun about 5 hours to late!