On Sunday George works on Southport pier so I thought it would be a good excuse to do a bit more of the round Britain barefoot coastal walk. George dropped me off at Crosby so that I could walk the 15miles on the beach back to Southport.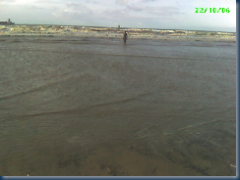 I was lucky enough to see some of Antony Gormley's (Caution: Flash site) "Another Place" sculptures gazing out across the muddy sea. Very eyrie and splendid. The icecream man was raising a petition to prevent their removal in November to the USA. Previously they have been at Cuxhaven in Germany, Stavanger in Norway and De Panne in Belgium. More close up photo's off the figures on the Blueshawk website.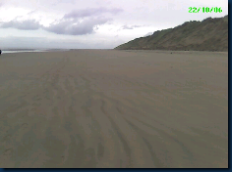 The beach became more deserted as you approach Southport and in fact Southport had the muddiest sand complete with embedded oil on the whole stretch of the walk, coupled with the rain starting up meant the last stretch of the 15mile walk was not the best. Made me realise why they needed a pier!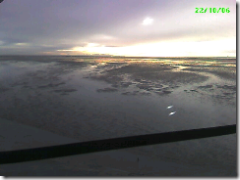 However there are great views (weather permitting) across to Wales from the pier.