Today was a day of many dead ends including falling of my bike at Monheim!
I left Cologne over the railway bridge which is festooned with hundreds of locks all engraved by lovers and locked to the steel mesh – be fascinating to know more about this 'tradition' On the other side I was barred from riding along the river due to the previous nights party (which I had failed to hear at all!) so I had to pick a way through the rubbish (no plastic bottles though that 25cents makes a HUGE difference). Then another detour around Chempark to get back on the river at Wiesdorf.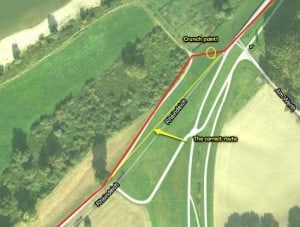 20 miles into the day at Monheim my little tragedy happened 🙁
As you can see on the pic. I should have kept right. However, I kept left, once I saw the path heading into the river I knew I had made a bad choice so I did a quick right up what was to be a very steep incline. I started to go to slow to be unable to unclip my feet, so over I went – the wretched handlebar ends hitting the rib over my heart – acute pain and agony. Now this scene was been witnessed by a about 10 folks sat on benches,  the unbelievable part is not one of the 10 showed a flicker of emotion not a "tut mir leid" between them not even laughter – It was if they were statues (Oops didn't check if it was an Antony Gormley set up).
I eventually picked myself up and recommenced my journey. A few miles later, after another major detour (wretched signs show the route for both sides of the river, so easy to get confused)I found myself in Dusseldorf, along their festive waterfront I was wondering if I should find a krankenhaus but opted for a mega Italian ice cream or two instead 🙂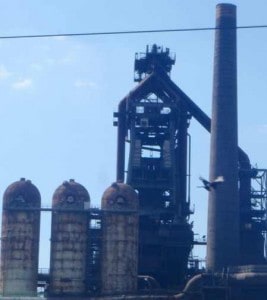 Onwards I went towards Duisberg past the blast furnaces of my youth (theirs have been turned into a museum rather than a caravan park like the ones I worked on in Renishaw). At Duisberg as part of the "Still Life" festival (very ironic in few of the tragedy of  of 20 deaths as part of the recent Love Parade in Duisberg)., the A40 motorway had been closed to form the longest table in the world. Amazing scenes!! Oh how I wish UK city centres could be closed to all traffic on Sundays 🙂 🙂
After 94miles of cycling at 10.2mph  along miles of paviors I arrived in Xanten for a good meal and sleep at Hotel Michael Neumaier 96 Euro all included.
The trail and pics are on Everytrail:-
Cologne (Koln) to Xanten at EveryTrail
Plan your trips with EveryTrail iPhone Travel Guides