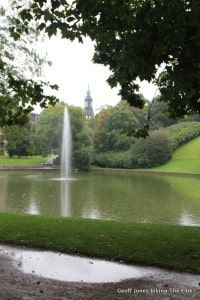 The rain finally caught up with me and after yesterdays miserable looking folks it was good to see so many smiling Germans, they obviously enjoy been out in the wet.
I was in low energy mode after 7 days in the saddle, Strava reckons I've biked 367.8miles in 31h 34m and pedalled up 8,892feet in the past week (Just about what TdF riders in 1903 did in one day 🙂
I didn't make a start till after 11am without any breakfast so after an hour it was a brunch stop at the first open cafe. The path is good although it has a rather annoying habit of slipping into slippery cobble stones at random points. Also a couple of sections just stopped necessitating U turns. Most of the cafes were firmly closed too 🙁
I made it to Riesa at 4pm. With internet enabled I could at last usebooking.com. I found the reasonably priced Saxonia Hotel for €38 including breakfast. It's run by a family of Italians who apologised in advance for the birthday party tonight 🙂
After my Pizza I went to explore, on foot, but some clown has built a dual carriageway cutting the hotel & station from the town. The bit I saw rather exudes a sense of hopelessness and according to Wikipedia  20.000 other folks agree  having left since 1989.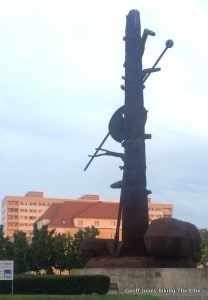 They have their own Angel of the North here, It's  a 25 metre high 400 tonne sculpture of a tree with a shovel, fallen cross & ingots of steel (Angel of the North is 20m high and 'only' weighs 200 tonnes). These sculptures are obviously to remind folks of their industrial past. Although I think a better sculpture would be a pile of 400 cars 🙂
Todays ride was 35.4 miles and 1,451 feet of climbing (Not so flat as I thought) the pictures are here