Just under a year ago I posted up to YouTube some of my Uncle Kens (He married my fathers younger sister, Helen) old cine films which we had converted to video.
The film that he took in around 1969 showing the demolition of Nottingham Victoria station, which he shot from his offices, has now had well over 10,000 views and garnered 67 comments.
Imagine my surprise when Tamsin from Screenhouse Productions called me to say they wanted to include Extracts from the film on a documentary they are doing on the Beeching Closures – The Documentary is called 'Beeching's Tracks' and is due to air on BBC Yorkshire on 26th Oct  2008 at around 19:30
Demolition Nottingham Victoria Station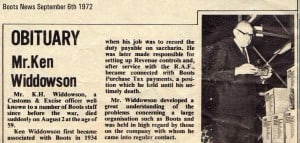 Uncle Ken, alas, died in 1972 well before the invention of the internet and YouTube although I'm totally convinced as a gadget man and lover of anything new he would certainly be an avid internet user.
I think he would be well pleased with the popularity of his cine filming.