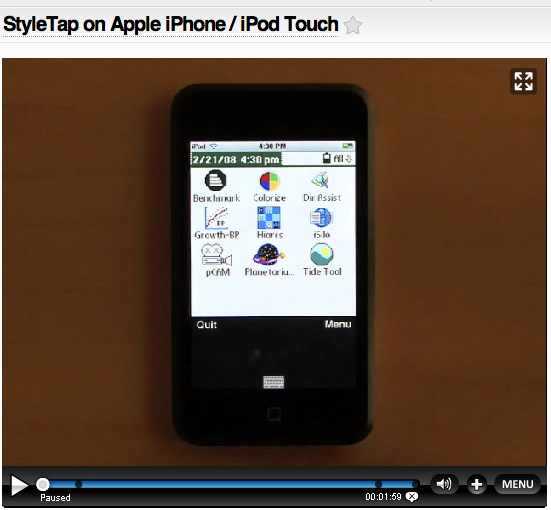 Lets hope these guys at StyleTap can get their software working on a iPhone.
Would be so great if I could run all my old Treo applications on the iPhone. The Treo applications I miss the most are:-
Eatwatch for tracking your weight and exercise. Examples of mine are on Flickr

Blood pressure storing and displaying blood pressure and pulse readings
Metro Computing fastest way to places on undergrounds and public transport around the world.
Pocket Quicken Personal finance tool that syncs with Quicken on your desktop.
Screenshot captures the current mobile screen as a jpg image and syncs to your desktop.
Sudoku really neat application that creates sudoku puzzles.
UTS (UtrackSys.com) allows you to track anything that can be measured.
Also missing from the iPhone:-
Search capability of your contacts, notes, emails etc
Note taking and syncing.
Taking videos.
Recording mp3s.
Sending contacts in your address book by sms/bluetooth etc.
Will be interesting to see when I can do all of the above on the iPhone. In the mean time I can keep filling in the application feedback request form at Apple.
Thanks to Download squad for the heads up.