Here in Les Gets there are always lots of happenings, rather reminds me of a huge Club Med. Today when the pistes had shut down we were entertained in the newly constructed area by the ice rink (patinore) with the Marabunta drummers' fiendish rhythms: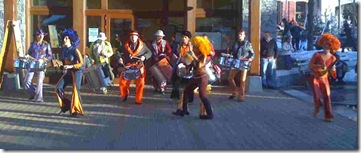 Rather reminded me of David's Drummin Divas group in Cambridge although from what I remember there group doesn't have such sexy dancers 🙁
To mark the end of today's SNOW CARNIVAL GRAND PARADE we also had fireworks on the slopes.
Tomorrow its love all the way:-
Thursday 14th February
Traditional market in the morning
VALENTINE'S DAY ON MONT CHERY
Celebrate St Valentine's Day on Mont Chery, a location to love! Activities and surprises to enjoy; meet at the Mont Chery ticket office.
From 3pm : Come and buy a flaming torch from the ESF in aid of « l'Opération Pièces Jaunes » for 5€ each. These torches will light the instructors' way in the special descent at 6.30pm.
3pm:    ESF Junior Giant Slalom on Mont Chéry. Information and registration at the ESF chalet by Wednesday evening please. Prizegiving is at 5.30pm on the ESF podium, conditions permitting.
4pm-5pm: Free Milka snacks for all, entertainment and competition with lots of prizes to win (meet at the foot of the slopes).
4pm-7pm: Carnavallissimo ice party in conjunction with the 15th Snow Carnival. Dance and have fun on the open-air rink. Lots of goodies to win…bonne chance!
5.30pm: Goat farm tour at the Sarre farm (on the Sarre road). Please book on
+33 (0)4 50 79 71 62 – Prices €5 per person, max 20 pers.
6.30pm: Take part in a torchlit descent with the ESF – with mulled wine and hot chocolate afterwards. You can buy a flaming torch at the ESF chalet for 5€ in aid of  l'Opération Pièces Jaunes. Open to 2eme étoile, 2eme classe skiers. Meet at the Chavannes cable car.