Earlier this year I came across this Gizmodo article featuring a low cost dental camera. I've always been fascinated by the concept of doing your own body inspections using small cameras (preferably with some sort of measurement capability – is that spot growing or shrinking ? )
Well the camera finally arrived direct from China. Here I am in Les Gets using it.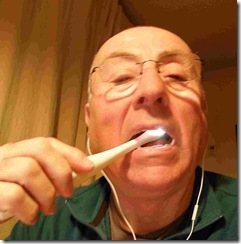 Its pretty neat especially for the price, less than $200. After a lot of hassle with the provided CD software, Windows eventually chose to download the HP starter camera drivers of the net. I could then view the images in the Skype video test mode. Images are grabbed by pressing a button on the handle.
Here are a couple of images of my teeth, one with an amalgam filling. one with the white plastic filling. Not bad image quality considering the cost.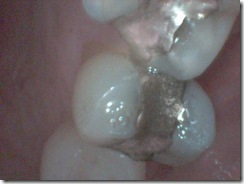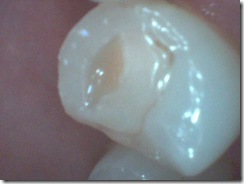 So if you want to buy one get in touch with me and maybe I can help you. Will be interesting to get Sonal's opinion on the image quality 🙂