I have been a regular swimmer at Jesus Green outdoor pool for several years. This year, for me, it is turning into a real social club with our small group of hard core swimmers.
I was first in at the official opening but not for long with the water temperature at 12 degrees I could only manage half a length (50 yards) Bernard however managed a stunning 13 lengths and lived to tell the tale. Since then the water temperature has been slowly increasing with my fingers progressively getting less frozen. Today at 20 degrees I managed my 10 lengths without any white finger at all.
Yesterday one of the of duty lifeguards offered to do my timings for me. So today with their stopwatch they timed my 10 lengths. In true geek fashion here is the result:-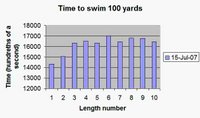 Total time was 27mins 9secs for 1000 yards. Will be interesting to see how this varies during the next couple of months.