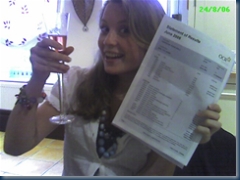 Here is Em really jubilant at her excellent GCSE results. She managed 7 A* and 4 A's. I'm a really proud dad today. All of her friends also did well, interestingly her friends who went to Parkside did exactly as well as her friends at The Perse, and apparently Joe from Parkside received a letter of commendation, been in the top 5 scorers in the country.
The only difference being that, I think, The Perseans did separate sciences .
So now they will all be reunited for the next two years at Hills Road.
[Here is Craig's blog from Parkside]