Just under a year ago I organised the Our Social World conference here in Cambridge, UK. One of the cool things that Adrian kindly did for us was a river of news feeds that was displayed on the projector. This displayed all mentions of the conference, including all the delegates, and also since we are English the latest Test Match scores.
Today whilst reading Robert Scoble's blog I noticed he was swooning about the river of news that his big friend and creator of RSS Dave Winer has just released. This is a river of news feed stripped to its bare essentials for displaying feeds from The New York Times and later The BBC on a blackberry or other mobile device.
Since we are in a WEB2.0 world and Adrian was on MSN at 9.30pm I suggested maybe we should knock about with the series of feeds that the BBC has for football (Soccer to the Americans). So by 2am we had created 20 URL's one for each football team in the premier division. Each URL is the initials of the club plus FC plus river.com so Arsenal is http://afcriver.com nice and short for the mobile phone text entry (although it redirects to afc.newsrivers.com) and West Ham United is http://whufcriver.com Manchester United is http://mufcriver.com Adrian has written a script to display the stuff on your phone like this:-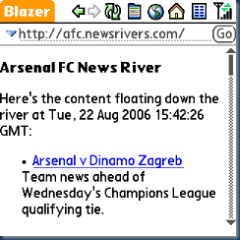 All rather cool I think. Maybe we could offer a service to other bloggers such as Jeff Jarvis.