Windows Live Writer seems to be getting some good reviews. I thought I would do a search for "Temporary Post Used For Style Detection" in Google, As this is a sign that a blogger has been using it. Today it gives 147 entries.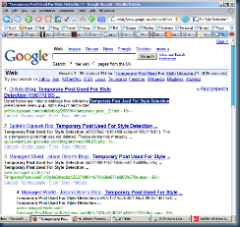 Here is the search window, I inserted it merely by doing a paste after grabbing the screen with Alt & Print Scrn. Pretty nifty eh.
Looks as if Microsoft is getting its act together especially with news that they are releasing XNA studio express to enable folks to create their own Xbox games.
Where is Scoble on these two new products? not a peep so far, I guess he really has other things on his mind now. Especially when Maryam is doing posts like this one.