Thanks to Techmeme I've just learned about this great new tool from Microsoft, The Windows Live Writer. I just finished making a post to my WordPress blog at www.geoffjones.net. It worked like a dream, especially the easy integration of images. Ellee is just going to love this when she is back from her hols.
My 58th Birthday party (Last year :-()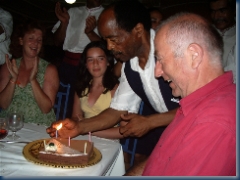 Dead easy to add an image, Enabling easily to put text around the image.
Here is a pretty cool feature – drop a map into your blog.