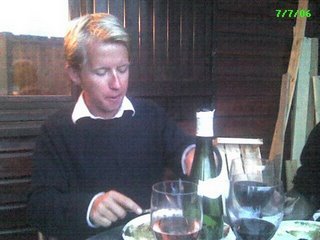 Here is Paddy Morris tucking into a well deserved meal at Anthony's birthday bbq last night, here in Les Gets. Paddy is about a third of the way on his walk from Trafalgar square to Istanbul which he started on May 8th 2006, yesterday he had walked into Morzine where he is taking a weeks rest before crossing the alps into Italy then cutting across to Trieste and downwards to Istanbul, hoping to arrive their in November.
His partner, Andy Ward, broke his leg a few weeks ago but is hoping to rejoin Paddy in Morzine.
Amazing tales of generosity of people met on his way and the crappiness of IGN maps (resulting in him walking for two days with no food as the promised villages were only hamlets!). Made me want to set off and join him.
Interestingly only the British Red Cross replied positively to his emails prior to the trip, even though he wasnt asking for any money!
Amazingly his father lives up the road from me in Cambridge.