Whilst on our walk today we came across this farm with the name The Pightle, Larry and I were fascinated by the origin of the name so out came the iPhone and a quick search on wiktionary revealed:-
"Odd-shaped fields now caused problems which had not been encountered in the days before mechanization. Thus, over several years, fields were reorganized to be acceptably rectangular.This was cleverly and thoughtfully arranged but,inevitably, there were remnants, leftovers,off-cuts or tailings. In most cases, these were small pieces of land,which were essentially triangular in shape. The locals probably referred to these pieces as "pigtails". In Norfolk dialect,this would quickly become pronounced as "pightle". In the 1920's through the 1940's,the word pightle was in fairly common usage but has fallen into disuse in recent years."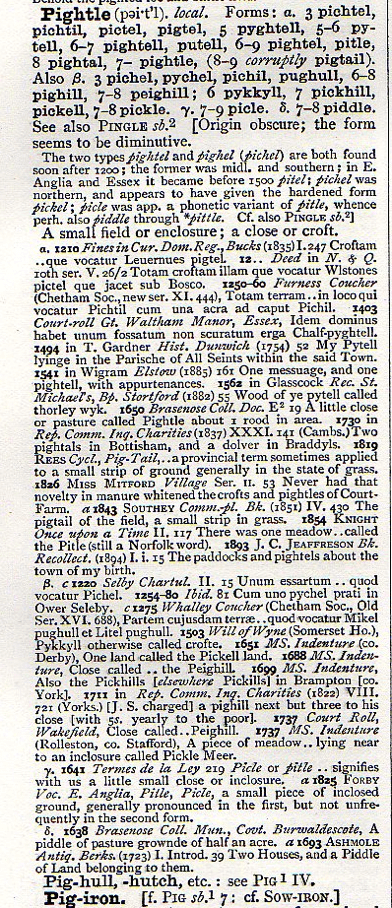 Once at home I was able to consult my 1909 first edition of the complete English Dictionary. this had the following entry:-
So there we have it an old East Anglian word dating from 1200 meaning a small piece of enclosed land.
Thanks to Rosemary, one of my readers, I now have a section from an enclosure map for Westhorpe, Suffolk  the map was dated 1840 and is showing a pightle.