A Happy New Year to all my readers 🙂 Good to see that you are a person of excellent taste and recognise a real quality blog!
After spending the first 12 hours of the new year in bed with Sally we decided a walk was in order. Neither of us could face the annual new year swim in the river.
So we decided to walk the opposite way and go to Baits Bite Lock via Chesterton and then return via Fen Ditton.
Here is the route with photographs. The GPS is a bit wonky in places, as I kept it in my pocket so reception was poor under the willow trees 🙁
Widget powered by EveryTrail: GPS Geotagging
In the process of trying to tidy up the GPS traces I stumbled across TrailRunner which looks quite interesting and may replace the rather expensive Ascent package that I currently use. Here is a screenshot of it with today's walk:-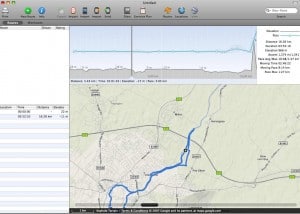 Another bit of software than Euan suggested was Trails for the iPhone, it certainly pulled in my Everytrail walks pretty neatly 🙂