One of my ambitions since getting my apartment in Les Gets has been to snow shoe walk up and board down the impressive Roc d'Enfer (2200m) which you can see from the top of my favourite hill, Mont Chery.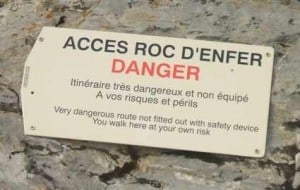 Last week with Sally and Ray we explored Roc d'Enfer (nb. Enfer is the French word for hell) with some trepidation as it starts with this little warning "Very dangerous route not fitted out with safety device. You walk here at your own risk" Which after walking the GR5, GR10 and GR20 with no such warnings made me wonder 🙁
Well, to say its interesting is perhaps an understatement. The walk starts off as a standard alpine route (550m in 3km) . However, once you get to Col de Graydon it becomes a full blown (for a walker) hands and feet job (200 vertical metres in about 400metres). Upon reaching the white cross (le Creux des Neiges) you get to see the awesome task you have set yourself as the path snakes along a ridge 1m wide – not flat but more like the edge of a saw! Pretty scary stuff for someone who suffers a bit from vertigo (having  thoughts about accidentally falling off, not the dizzyness associated with classical vertigo) since both sides of the path are essentially vertical drops 🙁 and it didn't help following someone who decides to stop every so often on the narrow path!
The worst is yet to come, that's right you obviously have to descend at some point! Not easy on crumbly rock covered with a thin layer of soil and grass. Once you get to a 'normal' ridge at Tete de Charseuvre everything seems so easy 🙂
We eventually made it, taking about 6 hours from l Encreanz to le Foron.
Here is the map and photographs:-
Widget powered by EveryTrail: GPS Geotagging
Not sure if I'm so keen about snowboarding it now 🙁